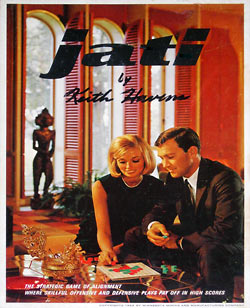 | | |
| --- | --- |
| Designer | Keith Havens |
| Publisher | 3M |
| released | 1966 |
| Players | 2-4 |
| Playing Time | 20 minutes |
by Moritz Eggert
There is an organisation called the "Europäische Spielesammler Gilde" (the European guild of game collectors) which tries to find all gamers who own the 3M-game "Jati".
3M games where actually American games that also were exported to Germany. They defined the term "bookcase" game that later became so popular with Avalon Hill. Bookcase games are games that come in a handy format that is most comparable to a large book, which makes storage and handling very easy. Everybody who owns humongous Hasbro games like "Axis and Allies" in their original edition knows what I'm talking about - it's a pain in the donkey to actually store these games!
But 3M was not only famous for its design, but also for its very good games, among them many classics like "Twixt" or "Acquire", games that have endured until today.
The original 3M games have become collector's items for quite a while now, and Guenther has a website with lots of info about 3M games.
Now there is a call for one of the rarest of rarest 3M games, the game "Jati" or "Jaati", I don't know how it is pronounced.
This is what the Geek writes:
The last of the 3M Bookshelf Series to be produced. It is a very simple tile placement game. It is a 2 or 4 player game, the four player rules consisting simply in a tournament.
Only about 100 copies of this game were produced; they were all pre-production play test and reviewers' copies and most were subsequently destroyed. The first run had a 1965 copyright and a 10 X 10 playing surface; the second run has a 1966 copyright and a 9 x 10 playing surface.
Spielbox republished Jati in 1986.
Not only was this game produced in my birth year, 1965, but now the European collector's guild wants to publish a picture of every owner of this rare game that they can find together with his/her game on their website. So far they have found only very few people, so if you are one of the lucky owners, please write an email to admin@e-s-g.eu and send them your proud picture and become part of the legend that was 3M.
Here are the pictures so far collected: http://www.e-s-g.eu/Sammlung Jati 3M.htm .
Speaking of collections - in a recent Dice Tower show Sam and Tom talked about their collection sizes, and there was general awe about Tom's collection of 1000 plus games (if I remember collectly). Tom - you're the man, there is no doubt about it, but I would like to give some examples of people that I know here in Munich.
I myself have about the same number of games as Tom Vasel, although I constantly try to reduce this number via Ebay or - much less successfully, through Boardgamegeek. Hey, has anybody of you ever sold a game via Boardgamegeek? I offered quite a lot of games, and I only got one request in 4 weeks, and that was for a game that I then had already sold at Ebay... Is the Geek Marketplace overrated? Please discuss....
Among my games are also many roleplaying games from ye olden times, which perhaps don't count, but also many microgames and small packet games which I especially collect, because they don't take so much room.
But I just pale in comparison to the aforementioned Guenther, who has a collection of - and I'm not exaggerating - 4000plus games. Most of them rare German games, and practically all versions of 1830 in existence. Guenther once visited me and looked at my collection which pretty much takes over a complete room in our apartment, and he just said coolly "Is that all?".
But even Guenther has to bow before Munich's biggest collector, and that is Jo Weigand, head of my gaming club the "Munich Spuiratzn". Jo is a game critic from the very first days of German gaming, and he kept practically every game he reviewed and bought many more in addition. His collection is 6000 games and growing, check that out and despair, my friends. And he is a very nice chap in addition!
I'm looking forward to hear more about weird game collector stories from you all, that will be interesting.
I'm closing my little text with a recommendation to a Geek list that I enjoyed recently, the list "That is illogical, captain - illogical inconsistencies in otherwise fine games" http://www.boardgamegeek.com/geeklist/18878
It lists thematic weirdnesses that crop up especially in Euro games, that frankly don't make sense when one thinks about them in the context of a realistic simulation.
To give you an example:
"The sheriff in the card game "BANG!" doesn't know who his deputies are.
"Hmm, I know I hired a deputy but I can't remember which of you it is. I guess I will wait and see who shoots at me."
Or Age of Steam:
"Let's see...so I have this rail company, and I get the most points for finding the least efficient way of delivering these goods to a city?"
Or St. Petersburg
Some of the aristocrat upgrades are illogical:
"Congratulations Judge. You've been promoted to Chamber Maid"
Look for the link in the show notes and give Chris Haighton, the creator of the list, a big thumbs up!
add/read comments

©2007, Westpark Gamers