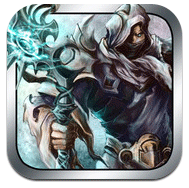 Transcript of the podcast published December 6th, 2011.
Let's take a more detailed look at an Android and iOS game that is in many ways representative of current trends. A friend of mine – my regular "Game of Thrones Card Game" gaming partner Ulrich Hergl, who recently made 2nd place at GenCon's "Call of Cthulhu Card Game" tourney, has made me aware of the game "Shadow Era" with the remark "I wish there was an electronic version of the Fantasy Flight LCG's that works like this".
Having extensively played the game in the last months I can't help but fully agree.
"Shadow Era" is an electronic collectible card game with many similarities to Magic the Gathering that works on all platforms – be it android, iPhone, PC or laptop. Once you have created a free account, you can always access your current game data, regardless of what platform you use. I have to say though that the visuals of the game work better on a larger platform, the screen on your android or iPhone is not really big enough to read the card text, which is all important.
Once you have logged in you get a free starter pack of one of the many possible characters you can play. These come in several classes and either belong to the Shadow (evil) faction, or the humans. Each of these characters has a special ability that usually uses up his "shadow points", which work a little like Mana and are raised every turn.
Basically the players get a starting card hand and then proceed to bring monsters and allies into the fray. At the beginning of each round you can sacrifice one card for resources which you then can use to pay for your cards, which consist of items, events, allies and spells. This short description will sound very familiar to any collectible card player, and actually the game rules are extremely simple and straightforward. It is easy to get into the game and start playing in a matter of minutes. It is the gameplay and of course the deck building where the fun begins.
The graphic presentation is absolutely breathtaking and very professionally done. Each spell has unique animations – I especially like the card "rain delay", even though it sucks – but none of them are annoying or too long. This has obviously been done by programmers who really thought long and hard what a game of this type should look like. The drawings for the various cards are not exactly up to Fantasy Flight quality, but are in the top heap of apps regarding quality. The only interface critique I have is the chat screen, which is a bit perfunctory and uninviting, and therefore rarely used.
Once you have logged into the server, you can manage your various decks and buy additional cards. Each deck is connected to one single character – every time you change it, it is saved and used when this character is used. It is therefore not possible to have different decks for one character, but I found that the fun is to build the perfect deck for each character, and there are so many to choose from that you won't get bored.
The card buy model is fairer than you might think. The base game costs nothing, and additional cards can be bought either in cheap packs or basic decks, using crystals as a currency which can be earned by playing games or paying real money (not a lot of it).  You won't need the crystals exclusively to get cards – one can also buy single cards from a merchant using gold currency which can only be collected through actual gameplay. If you are very dedicated you can actually earn all your cards by only playing the game against the provided ok computer or real opponents, the crystal option mostly saves time for you. I am playing this game for 5 months now and have only paid 8 dollars so far, so that is really ok – it won't turn you into a crack addict.
Even though the deck building is important in the game, it is not as overpowering as in other games, and so far deadly combos or game breaking combinations are not evident. This has mostly to do with the fact that the basic rules are so simple and the cards so well thought out that this has not arisen yet as a problem. I find that deck building in the game is not super difficult –most choices are pretty obvious. But the game play itself is full of so many meaningful decisions that this is where winners are made. Even the best deck can easily be played badly and to win you have to anticipate the abilities of your opponent. As a game only lasts 10 minutes or so the game becomes quite addictive, especially because there is an incentive in form of a rating which works similar to Xbox-online games. Luck doesn't play a huge role, as there are no dice rolls and the decks usually very small (around 30 cards), so very often all cards in a deck come into action.
The server of this game works extremely well – just press "Quick Game" and you will have an opponent in seconds. It is also possible to challenge friends if you have their online name.
As you can tell I really like this game – it is a very clever creation using popular concepts presented in an exceptionally slick way. If you like collectible card games you will love this game, guaranteed.