1. "History of the World"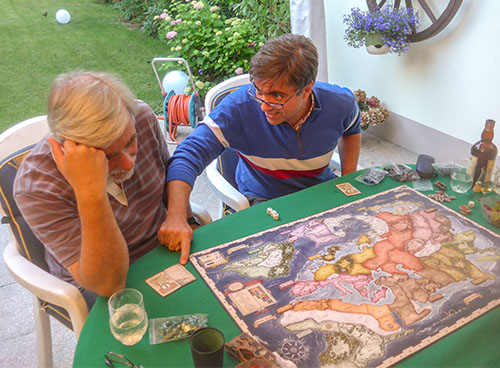 Auch wenn die Erde sich ständig dreht und in ihrem Milchstraßenflügel blitzschnell-langsam durch das All eilt, haben schon vor 3000 Jahren kluge Männer herausgefunden: "Nichts Neues unter der Sonne". Das gilt besonders, wenn man die Geschichte der Menschheit betrachtet: Mord und Totschlag, Krieg und Eroberungen, Siege und Niederlagen, Führer und Verführte bleiben sich über alle Völker und Zeiten hin gleich. Selbst ein neuer Präsident und eine alte Kanzlerin ändern nichts daran, auch wenn sie ein paar Millimeter an dem geschichtlichen Fleckerlteppich weiterweben.
In "History of the World" wird die Geschichte der irdischen Eroberungen nachgespielt. Alle paar Jahre kommt eine neue Version heraus, aber naturgemäß spielen wir immer noch mit den alten Affen. Und Moritz ist jedes Mal von neuem begeistert.
Europa mit seinen Mittelmeer-Anrainern sitzt wie üblich wie in dickes, vollgefressenes Kuckucksjunges in der Mitte des Spielbretts. Die restlichen Kontinente (wenn man Europa überhaupt unter diesen Begriff zählen darf) sind höchstenfalls kleine Wachteleier am Rande.
Was ist die intellektuelle Herausforderung dieses Spiels? Von Vorteil ist, wenn man einige Spielerfahrung hat (Moritz hat das Spiel schon hundertfach gespielt), wenn man weiß, wo Völker entstehen, welches Potential sie entfalten können, und wie sich die unterschiedlichen Siegpunktausschüttungen für Anwesenheit, Dominanz und Alleinherrschaft in den verschiedenen Regionen entwickeln.
Strategisch ist es, sich in einige abseitige Regionen auszubreiten, die – hoffentlich – weniger umkämpft werden, wo der Besitzstand sich besser hält, und die in der Summe dann doch reichlich Siegpunkte ausschütten.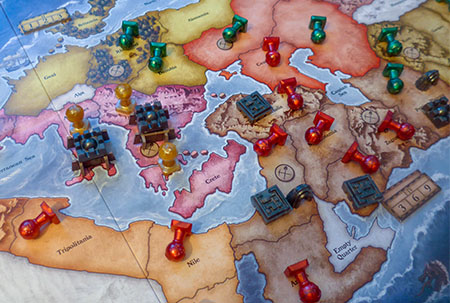 Taktisch ist es, seine Punkteausbeute so zu dosieren, dass man möglichst zweimal hintereinander abkassieren kann, z.B.: als Letzt-Ziehender in der einen Runde und dann als Erst-Ziehender in der nächsten Runde. Dabei darf man den Mitspielern aber nicht zu viel Vorsprung geben, den man dann ggf. nicht mehr einholen kann.
Moritz als gewiefter Stratege und Taktiker ließ sich bis in die letzte Runde zurückfallen, weit zurückfallen, und machte dann als Erstziehender einen Riesensatz bis weit vor alle anderen. Aber es reichte nicht. Aaron als Letzt-Ziehender (und vor der letzten Runde Führender) konnte als Japaner seinen Vorsprung ins Ziel retten. Ja wenn Moritz ihn bzw. seinen Besitzstand in seinem Zug konsequent bekämpft und dezimiert hätte, und nicht seinen Hauptgegner in Walter gesehen hätte, hätte es vielleicht noch zum Sieg gereicht. Wenn dann aber Günther gegen Moritz losgezogen wäre und Walters Besitzstand geschont hätte, hätte alles ganz anders kommen können. Selbst in der letzten Runde. Soviel ist in History of the World einfach (nicht) drin.
Ach richtig, gut würfeln muss man natürlich auch. Und zwar ständig.
Walter war als Hitler (oder war es Kaiser Wilhelm?) mit seinen Alemannen und reichlich Besitztum vom Kap bis nach Nanking hoffnungsvoll in die letzte Runde gestartet, als er dann aber endlich mit seinen neuen Eroberungen beginnen konnte, hatten die Franzosen das Rheinland besetzt und die Bolschewiken waren bis weit über die Elbe gezogen. Das treulose Albion lag unerreichbar, genauso wie die übrige Welt zwischen Alaska und Australien. Da drehte er sich um und weinte bitterlich.
WPG-Wertung: Aaron: 7 (zu lang für das, was es ist, sehr glückslastig, zu viel Wartezeit zwischen den Zügen), Günther: 7 (die Wartezeit kann man sich durch interessiertes Zuschauen verkürzen, zudem wird man ja auch zuweilen in einen Verteidigungskrieg verwickelt), Moritz: 10 (diese Spiele sind alle 10 Punkte wert), Walter: 6 (bei der ganzen Kriegerei darf kein Herzblut fließen, dann kann man es aushalten; naturgemäß ist in solchen Eroberungsspielen die Kingmakerei nicht zu verhindern)
2. "Krazy Wordz"
Wir ergötzen uns bei der Erfindung von sprachlichen Neuheiten aus dem Zuhälter-Milieu, den Nonnenklöstern und dem Kamasutra. Es macht Spaß, die Begriffe zu bilden und sie zu erraten. Partyspiel.
Moritz kannte zwar nicht die meisten Stellungen, konnte sie aber am eindrucksvollsten benennen. Sieger.
Keine neue WPG-Wertung.