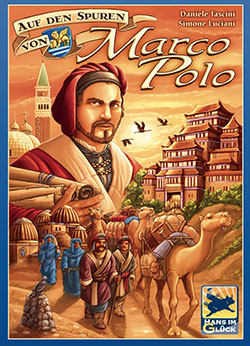 In this highly anticipated game published by Hans im Glück we travel through Asia following the footsteps of Marco Polo and on our arrival build trading posts. From now on, we are able to trade gold, pepper and silk there. If these locations coincide with our personal goal cards we receive additional victory points at end of the game.
The supply of goods is handled by a very nice dice-worker-placement mechanism and these goods can into victory points using contracts or our trading posts.
But the icing on the cake and a real highlight are the characters. Each player at the beginning of the game takes in a different role card with specific game advantages. Adjusting one's tactics to those characters is the key to victory! Even if this has not worked so properly in the first few games, this and the variable game setup provide many challenges for ongoing fun in many more plays.